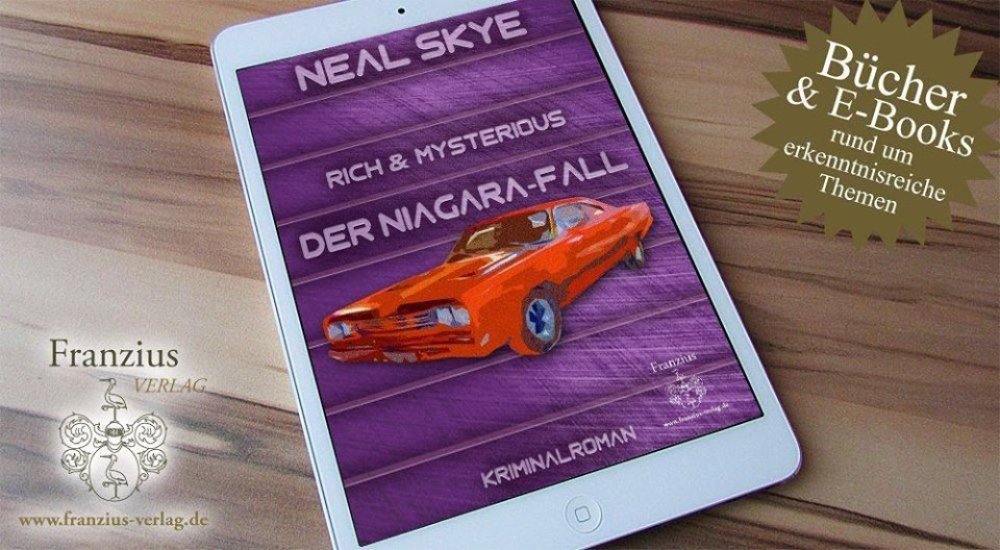 Rich & Mysterious - Der Niagara-Fall
"Ich bin Sara", sagte sie. "Sara Maria Anderson". Ich wusste, dass konnte nur 'Problem' bedeuten. Sie trug ein langes, grünes Satinkleid und hatte keine Ahnung, wer sie in das Taxi setzte, das sie nach Buffalo, NY brachte, direkt in mein Büro. Die letzten acht Stunden und dreißig Minuten waren in ihrem Gedächtnis wie ausradiert, aber schon bald war mir klar, dass wir deutlich tiefer graben mussten. Ein Mord in Saras unmittelbarer Umgebung zog mich dann in die Vergangenheit, in eine Welt aus Skrupellosigkeit und Habgier, gewährte mir aber auch Einblicke in die ungewöhnliche und bizarre Welt zweier bemerkenswerter Frauen. Und welchen Beziehungsstatus hatte wohl diese kleine italienische Stupsnase vom NYPD?
Niclas "Rich" Richmond war Ende der 80er Jahren ein junger, gefragter Journalist, der von der renommiertesten Detektei Buffalos abgeworben wurde. Jahrzehnte später ist vom Ruhm jener Tage nicht mehr viel übrig geblieben. Privatdetektive, die einst für die Gerechtigkeit kämpfende Helden waren, dokumentierten heute aus sicherer Entfernung die Untreue von Ehepartnern – das war nicht mehr seine Welt. Als Rich mit seinem persönlichsten Fall konfrontiert wird, fordert sein Schicksal ihn zu seinem härtesten Kampf heraus.
"My name is Sara", she said, "Sara Maria Anderson" and I immediately knew her real middle name was "problem". She wore a long, green satin dress and she had no idea who put her in that yellow cab that drove her all the way to Buffalo, NY, directly to my office. The last eight hours and a half were wiped out of her memory, but very soon I knew we had to dig far deeper. A murder in Saras direct environment dragged me far into the past in a world ruled by unscrupulousness and greed, but also gains me inside the uncommon and bizzar world of two remarkable women. And which relationship status might this tiny italian snub nose of the NYPD have?

The young Niclas "Rich" Richmond was a well respected journalist who was headhunted by a privat investigation bureau with the hightest reputation in Buffalo. Decades later the glory has been fading. Privat investigators who had been heros once for fighting for justice now shoot pictures of people sheeting their marriage partners – that was so not his world any more. Once confronated with his most personal case the destiny challenged him for a most hardest fight.
Erschien 2016 im Franzius Verlag, Bremen